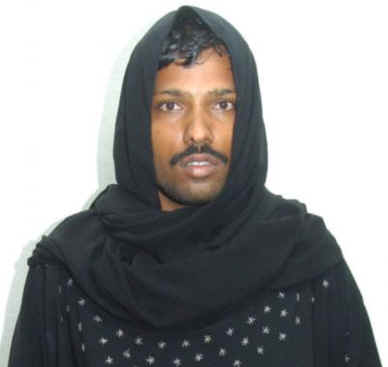 A Filipino man appeared in court in Abu Dhabi yesterday accused of "imitating a female". He had been arrested in a shopping mall, allegedly dressed in women's clothes and holding a handbag. A report in The National says:
"Store workers were making fun of him when one took offence and called the police.

"When officers arrived, the Filipino denied being dressed as a woman. Police then searched his bag and found make-up."
His trial has now been adjourned until December 26.
Similar cases are reported in the Emirati press with alarming frequency, and the authorities actively encourage the public to report cross-dressing "crimes".
Two years ago, following what was said to be "a large number" of complaints about cross-dressers using women's toilets, a police official urged people to dial 999 if they spotted anyone cross-dressing. It didn't matter whether the cross-dressing was causing a problem or not, the official said, because "dressing up as women in public places is violating the laws".
The official went on to say that anyone who did report a cross-dresser to the police would be guaranteed anonymity.
The prohibition on cross-dressing was also listed in a "code of conduct" for tourists issued by the Abu Dhabi tourist police (in 12 languages) last July.
The Filipino man's trial is the third cross-dressing case reported in the UAE this year, and there have been several others in recent years:
November, 2012:
An Indian man was arrested for "violating public decency" after being found in a "women only" park in Sharjah wearing a black abaya (see police photo above). He was reported by a woman who noticed his moustache.
July, 2012:
A beautician from the Philippines was sentenced to two years' jail, followed by deportation, after beingconvicted in Dubai of "cross dressing, pretending to be a woman, tricking a woman into undressing in front of him, assault and practising medicine without the proper permits". There are indications from the press reports that the person was transgendered rather than just a cross-dresser.

The case came to light after a female inspector, posing as a customer, visited the beauty salon. According to The National, the inspector assumed the beautician was a woman "as he had long hair, wore women's clothes, perfume and make up, and had manicured hands. He had also been taking breast enlargement tablets".

Following the undercover visit, the inspector reported the salon to the police for various breaches of the regulations, and the police arrested the beautician. According to another report, "one of the beautician's fellow employees told the officers of his true gender".

The report adds:

"The inspector was not the only person confused by the beautician's appearance. When he responded to his name being called in court, he began to walk towards the judges' bench, but was initially sent back by police guards who thought he was a woman."
June, 2010:
A 30-year-old Egyptian man was acquitted of cross-dressing in Dubai International City. Police claimed he had been wearing a bra and panties – which the man denied, saying they were in a bag that he had found outside his house.

He told the judge: "I swear to God that I am not a pervert … your honour, I was born a man and am proud of my masculinity. I do not mind undergoing any biological test to prove my manliness, if that is what it takes to convince the court that I am a normal adult."

Dubai Misdemeanours Court decided there was not enough evidence to convict the man. Prosecutors later appealed against his acquittal and the appeal court's decision appears not to have been reported.
March, 2010:
A 22-year-old Emirati student was convicted of "consensual homosexual sex, cross-dressing and insulting a religious item or creed". He was arrested at Dubai airport on his way to Europe in the company of his partner, an Emirati man who had previously been convicted of homosexuality.

Prosecutors said the student featured in pornographic material found on his laptop. A report in The National said:

"Public Prosecution records state that 'the suspect has circulated materials which defy decency by posing in a provocative manner using women's make-up in his underwear and at times in swimsuits revealing his buttocks, and, at times, wearing female clothes and accessories'.

"He was also convicted of insulting a religious creed or item after prosecutors said that he circulated images on the net of himself dressing up in a 'hijab' while reading the Holy Quran. 'He has insulted the Islamic creed by wearing female make-up, accessories and a hijab-like veil while sitting in front of the Holy Quran and acting like he is praying,' the indictment sheet said."

He was initially sentenced to three years in jail but this was reduced to one year on appeal.
January, 2009:
A 45-year-old Indian man was convicted of cross-dressing and using mascara at the Mall of the Emirates in Dubai. The man, a manager with a property firm who also worked in the film industry, claimed he was rehearsing for a Bollywood film role which required him to dress as a woman.

The man was given a six-month suspended jail sentence and fined Dh10,000 ($2,700). A report in Gulf News said: "The judge suspended his imprisonment because it's his first offence and it [is] believed that he won't repeat the crime."
July, 2008:
Police in Dubai announced they had arrested 40 "cross-dressing tourists" of unspecified nationality. There appear to be no further press reports indicating what happened to them.
One point worth noting is that in the news reports of these cases there is no mention of any of the accused misusing public toilets. So if complaints about that were the real reason for the campaign against cross-dressing, the police seem to have been singularly unsuccessful in catching anyone.
The reported cases all involved men, though last year Dubai also launched a campaign against boyat ("tomboy" women).
Another point of note is that the authorities in the UAE seem to have very confused ideas about sexuality, generally equating cross-dressing with homosexuality (cross-dressers are not necessarily gay), and failing to distinguish between cross-dressing and transgender.
Adding to the confusion, the campaign against the "problem" ofboyat – which Dubai's chief of police blamed on co-educational schooling – was also lumped together with campaigns against domestic violence and sexual harassment.
The roots of the Emirates' hostility towards gender non-conformism lie partly in religion and partly in the local culture.
In a much-quoted hadith, the Prophet Muhammad is said to have cursed men who imitate women and women who imitate men. Writing about this in his book, Lawful and the Prohibited in Islam, the Qatari-based scholar, Yusuf al-Qaradawi predictably warns that cross-dressing could bring about the end of civilisation as we know it:
"The evil of such conduct, which affects both the life of the individual and that of the society, is that it constitutes a rebellion against the natural ordering of things. According to this natural order, there are men and there are women, and each of the two sexes has its own distinctive characteristics.

"However, if men become effeminate and women masculinised, this natural order will be reversed and will disintegrate."
Statements like this basically provide religious cover for prejudice against those whose behaviour doesn't fit the socially-determined gender norms. In a patriarchal society like the UAE, "feminine" men are viewed with repugnance for betraying their gender, while women who wear men's clothing under their abayas are seen as a threat.
Posted by Brian Whitaker, 19 December 2012.
This work is licensed under a Creative Commons Attribution-NonCommercial 4.0 International Licence.