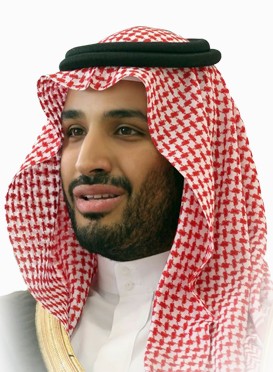 News from Saudi Arabia about the arrests of ten or more rights activists has been viewed with a mixture of shock and surprise in western media. Just a few years ago, though, no one would have been surprised: it was simply the way the Saudi regime behaved.
But that was before Mohammed bin Salman became crown prince and de facto ruler. It looks surprising now because the prince has been glowingly portrayed as a reformer who makes bold decisions like allowing cinemas to open for the first time in decades, allowing women to drive and – er – bombing Yemen to smithereens.
Women drivers will officially take to the roads a month from now, so at first sight it does seem a bit odd that the people arrested include several women who have been prominent in the campaign to let to let them drive.
Alongside that, there's another puzzle. For the last month or so, Bin Salman himself has been keeping an unusually low profile and rumours have been circulating (with encouragement from Iranian sources) that he was killed or wounded in an attempted coup.
On April 21 several volleys of gunfire were heard in Riyadh, in a district where royal palaces are located. The official explanation was that security forces had shot down a drone – said to be a "toy" or "recreational" drone – flying near the palaces.
This led to speculation about a coup attempt. There have been repeated claims that Bin Salman has not been seen in public since then – though they appear to be untrue. A week after the Riyadh shooting official photographs showed Bin Salman attending the launch of the Qiddiya project, seemingly in good health.
Last week Badr al-Asaker, head of the prince's private office, posted a photo on Twitter, said to have been taken "a few days ago" which showed Bin Salman with "brother" Arab leaders, apparently standing at the edge of a swimming pool. One noticeable feature of the photo, though not necessarily a significant one, is that most of the background had been blacked out (see below).
Aside from Asaker's tweet, however, the Saudis have not made much effort to quash speculation but it's possible they are content to let the rumours circulate for a while. It's worth recalling the recent case of Khalifa Haftar, the Libyan strongman who was wrongly reported to be dead or incapacitated. Haftar's supporters allowed the story to run because it gave them an opportunity to see who was celebrating.
Assuming Bin Salman is alive and well, his uncharacteristic quietness over the last few weeks coupled with the crackdown on activists does raise a question about whether the arrests were his personal decision.
Since his father came to the throne, Bin Salman seems to have been given more or less a free hand but the arrests might conceivably be a sign that someone is now trying to rein him in, or that he has come under pressure to make a placatory gesture towards the religious reactionaries. If so, though, there would probably be more signs of the same thing happening in other areas.
But perhaps a more likely explanation is that the arrest of activists is entirely consistent with Bin Salman's policies, and that any surprise about that is misplaced. It's important to remember that political reform is not part of the prince's vision for Saudi Arabia and reforms, when they happen, must be seen to come from the top. When women drivers finally take to the roads Bin Salman will claim the credit and the Saudis who campaigned for it over many years will be silent behind bars.
This work is licensed under a Creative Commons Attribution-NonCommercial 4.0 International Licence.